Guided tour / Comingtogether
The Stock Exchange
Team: Robbrecht and Daem architects, Bureau d'Etudes en Architectures Urbaines, Popoff architects
The lofty stock exchange building in the centre of Brussels is a reference point in the city. Since the Brussels stock exchange moved out in 2015, the building has been inaccessible to the general public, apart from a few temporary uses. The building, right in the centre of Brussels, stood empty, while the surrounding area was undergoing rapid change. Its majestic steps were the setting for the 'picnic-the-streets' initiative, which put the plans for the pedestrian zone in the centre on the agenda. Debate, mourning and partying took place outside the door, but within the Stock Exchange there was silence.
That will change with the renovation and planning for a beer museum. The transformation is controversial. The question of whether the plans honour the site satisfactorily was raised in various quarters. It was suggested that it contributes to the 'disneyfication' of Brussels. The Stock Exchange would be dominated by tourism, with too little attention paid to people who live in Brussels. The architects Robbrecht & Daem, who are known for prestigious public architects such as the Stadshal in Ghent, are working on it together with Bureau d'Etudes en Architectures Urbaines and Popoff architects.
The visits on Sunday 17.10.2021 at 10:00 and 11:30 will take place with the architects. The visits at 14:00 and 15:30 will be given by one of the architects.
Please note that the visit will take place in a construction site which is not recommended for people suffering from vertigo.
Please bring hiking boots and avoid shoes with heels.
The Covid Safe Ticket applies.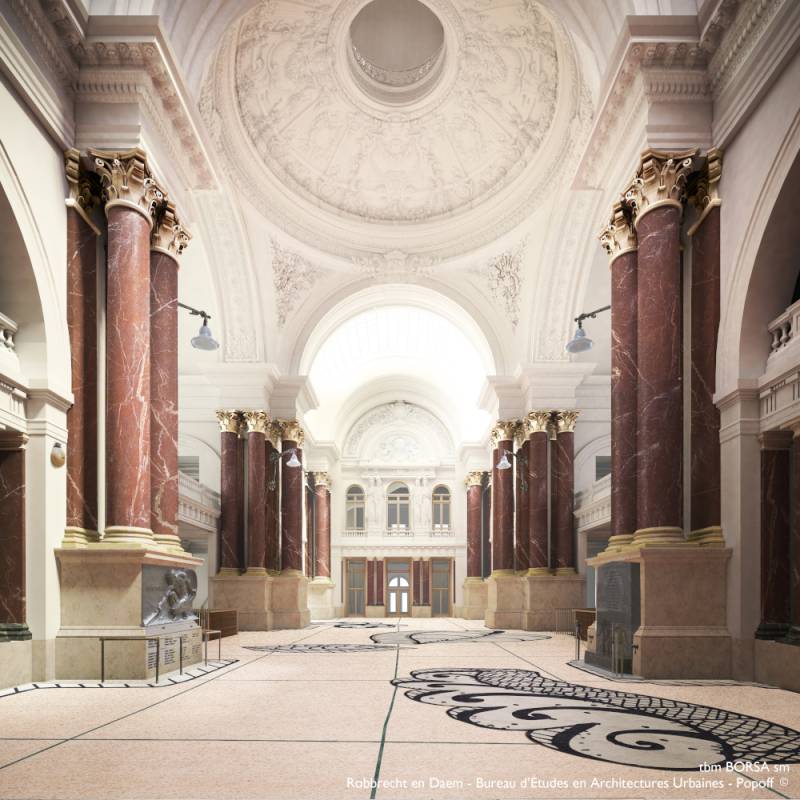 Dates
Sunday 17 October 2021
10:00 → 11:00 (nl)
● full
Sunday 17 October 2021
11:30 → 12:30 (en)
● full
Sunday 17 October 2021
14:00 → 15:00 (fr)
● full
Sunday 17 October 2021
15:30 → 16:30 (fr)
● full
Meeting place
At the corner of the building, on the corner of Rue Henri Maus and the pedestrian precinct ("piétonnier")

Address of the visit
Place de la Bourse/Beursplein 1
1000 Bruxelles/Brussel
Practical informations
Photos allowed