Guided tour / geo-sourcing / bio-sourcing / Sélection des commissaires
Brunfaut tower
Construction team: Atelier 229 + Dethier (architectes), Ney & Partners (stabilité), Arcadis (Special techniques)
Implementation: in progress
be.exemplary 2016 winner  
Located on the quayside in Molenbeek-Saint-Jean/Sint-Jans-Molenbeek, this 1965 building with its 97 social housing units spread over 16 floors has many deficiencies in terms of safety, living comfort and energy performance. In their renovation project, the architects have not only widened and raised the residential tower to 21 floors, but also offered a coherent response to contemporary urban challenges.
In order to preserve the existing structure and foundations, the new floors include a structure that forms a bridge over the existing tower. Cross-laminated timber (CLT) is used to create light and compact floors, minimising interventions in the existing structure, reducing the carbon impact of the work and greatly accelerating the construction process.
Important: The project is currently in progress. Please wear solid heavy soled shoes, boots or work shoes. Heels should be avoided. A hard hat will be provided at the site entrance.
This tour is not suitable for children, people with reduced mobility.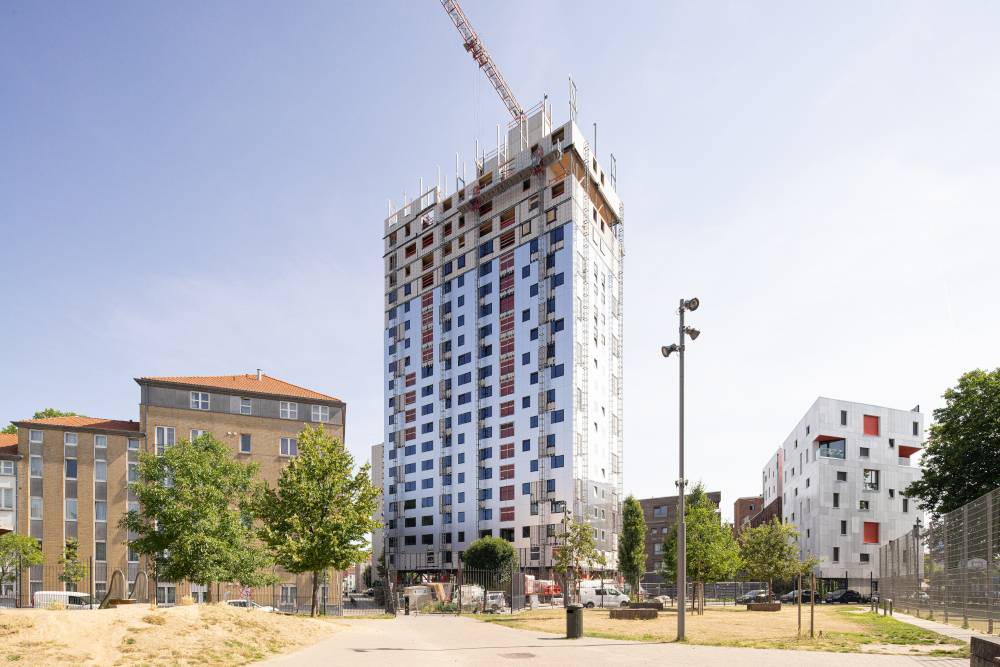 Dates
● Booking
Address of the visit
Rue Fernand Brunfaut/Fernand Brunfautstraat 65
1080 Molenbeek-Saint-Jean/Sint-Jans-Molenbeek
Practical informations
No PRM access
Photos allowed